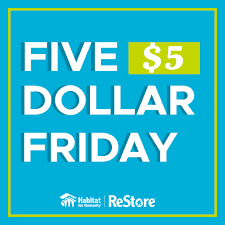 Uncovering Treasures for Just $5 at Habitat ReStore
Welcome to a thrifter's paradise, where every dollar counts and the hunt for hidden gems is not just an activity but an adventure! Charleston and Teays Valley are your destination for treasures from our Habitat for Humanity ReStore, where $5 can stretch beyond your wildest dreams.
The Habitat ReStore Experience: More Than Just Shopping
Before diving into the treasures you can find for $5, let's appreciate the unique experience that is shopping at a Habitat ReStore. Each visit is a new adventure, with items ranging from furniture to home decor, building materials to unique finds, all donated by people in our community. But the best part? Your purchases help fund Habitat for Humanity's mission to build homes, communities, and hope in Kanawha & Putnam counties.
What $5 Can Get You at Habitat ReStore
Home Decor Delights: Picture frames, vases, and small decorative items often grace our shelves. Imagine finding a vintage frame that adds a touch of nostalgia to your home or a quirky vase that becomes the centerpiece of your dining table.
DIY Project Materials: For the DIY enthusiasts, Habitat ReStore is a goldmine. Find tiles for a mosaic project, knobs for dresser restoration, or paint supplies to bring new life to an old piece.
Books and Media: Our selection of books, DVDs, and CDs can be vast. Pick up a classic novel, a beloved movie, or that album you've been wanting to add to your collection.
Gardening Supplies: Small tools, pots, and gardening accessories are often available. These can be perfect for starting your own windowsill herb garden or adding a new plant to your collection.
Kitchen Essentials: From dishes to glassware, utensils to small appliances, you can often find kitchen necessities that add functionality and charm to your cooking space.
Children's Toys and Games: Discover puzzles, board games, and gently used toys that can bring joy to the little ones in your life, all while fostering a sense of sustainability.
The Impact of Your $5
While the physical items you can score for $5 are incredible, the most significant impact is the one you make with your purchase. Every dollar spent at Habitat ReStore helps fund the construction of homes for families in need in our community. Your $5 is not just buying items; it's building homes, fostering stability, and supporting dreams.
Final Thoughts: A Call to Explore
As we've seen, $5 at a Habitat ReStore can be a ticket to an array of finds, each with its own story and potential. But beyond the tangible items, your $5 is an investment in our community and a support to those working towards a better future. So, we invite you, treasure hunters and bargain lovers, to visit your local Habitat ReStore. Explore, find something special, and be a part of a mission that changes lives—one $5 find at a time.