Latex Paint Recycling Program
The Habitat for Humanity ReStore has developed a latex paint recycling program; leftover latex paint can now be remixed and resold! By providing community members a simple way to rid themselves of leftover latex paint, the Habitat ReStore is providing an economic and environmental solution to a common problem.
This program will assist in keeping our community's water supply free of potential contaminants and lower the amount of landfill space required for dried latex paint. In addition, this program will provide paint to individuals and groups at discounted prices, while providing additional funding to Habitat for Humanity of Kanawha & Putnam to assist in the construction of simple, decent homes.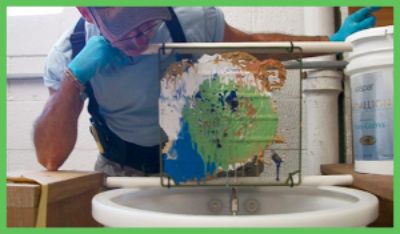 What happens with all of that paint?
After accepting donations of leftover liquid latex paint, ReStore staff and volunteers separate the cans of paint by type (interior or exterior) and sheen (glossy, semi-gloss, satin, eggshell, flat). The categorized paint is then inspected, shaken, filtered and mixed in special 55 gallon barrels that have long industrial mixers. The mixed paint is filtered a second time and repackaged for resale to the general public.
Fifty gallons of different paint can be mixed in one batch, producing one uniform color. Mixing many different colors usually produces one neutral color (gray, brown or taupe). Sometimes large quantities of one primary color can be mixed in to produce shades of blue, red and yellow. We never know exactly what color a batch will produce and we can never duplicate that color, but we do provide color samples and information on each container we sell.
We accept donations of leftover latex paint at both ReStore locations. Donations must be liquid and in the original marked container.