Schedule a Free Item Pickup
Call or text our donation hotline now to learn more about our free item pickup, and schedule your item donation today!
304-881-0262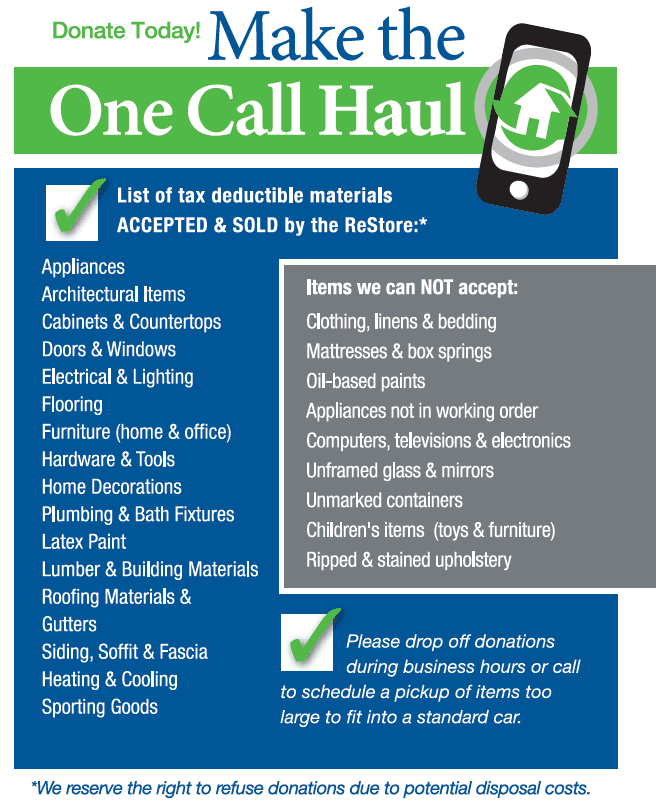 The Do's & Don'ts of Donations
Items we can accept
Appliances
Antiques
Architectural Items
Framed Art and Mirrors
Cabinets and Countertops
Doors and Windows
Electrical
File Cabinets
Flooring
Furniture (home and office)
Hardware

Home Decorations
HVAC
Plumbing and Bath Fixtures
Latex Paint
Lumber and Building Materials
Lighting
Roofing Materials and Gutters
Siding, Soffit and Fascia
Small Appliances
Stone, Brick and Block
Tile
Tools
Trinkets and Knick-Knacks

Items we can NOT accept
Clothing, linens, bedding
Mattresses and box springs
Paint, stain, thinners
Liquids
Refrigerators
Non-working Appliances
Computers, TVs, electronics
Unframed glass or mirrors
Unmarked containers
Hazardous materials
Children's toys & furniture
Ripped or stained upholstery
Sleeper sofas
Pianos & organs
Donate Items to Habitat ReStore
We offer large item pickup as well as donation dropoffs at our two Habitat ReStore locations. Drop-off donations are only accepted during regular business hours. 
View our locations: Charleston & Teays Valley. 
Too big to haul? Give us a Call.
Our Habitat ReStore team can pick up items that are too big to fit in a standard car.
All items intended for donation pick-up must be outside of the house, safe from the elements. This may include a garage, covered porch, or carport. In order to maintain minimal contact between drivers and donors, all receipts will be sent via email unless a paper receipt is requested by the donor.
All donations will be screened for acceptability, and we offer no guarantee regarding accepting items after inspections.
Call or text our Donation Hotline for more information about what you can donate, and to schedule a large-item pickup.